Most all sidecars today mount to four points on the bike: two upper strut mounts and two lower arms. The lower arms have heim joints on them (spherical rod ends – swivel ball joints) the allow for some small angles in the sidecar-to-bike mounting. These do not move, flex or rotate after the mounting is finished. The two upper struts have clevises on both ends to mount to eye nuts on the sidecar frame and on the bike-side mounts.
Following is a chart of some of the bikes for which specific mounting kits are available. Below the chart are pictures of some custom mounts. A word of caution – if custom mounts are listed below, the bike identified probably has to have them – a set of universal strap clamps will NOT work. Consider this when comparing prices with other makes and models which ONLY come with a universal mounting kit. You are time, money and safety ahead with custom engineered bike-side mounts for your motorcycle or scooter.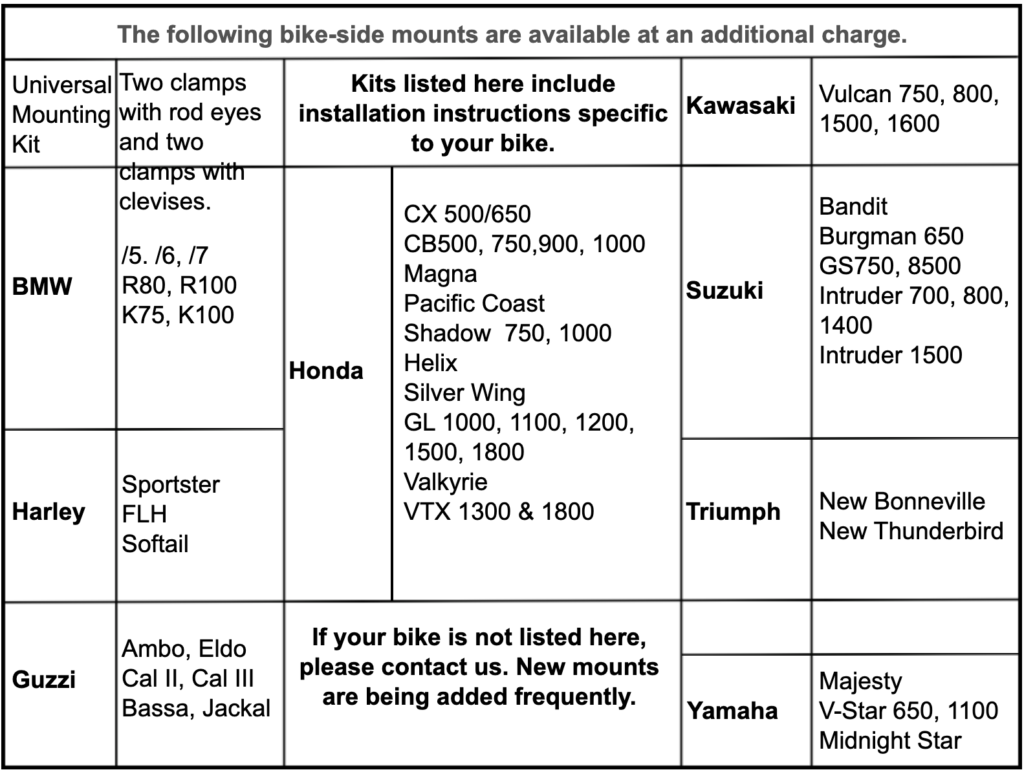 Pictured below, left to right: a straight strut; a boss (one half of a lower mounting arm) with heim joint and jam nut; and two frame strap clamps, one with a clevis and one with an eye bolt.
Pictured below, left to right: a model-specific scooter lower mount which replaces the center stand; a model-specific scooter upper rear mount; and a lower front or lower rear (depending upon dimensions) mount that typically attaches to the motorcycle frame behind floorboards or to frame behind muffler mount.
Pictured below, left to right: a subframe with rear lower mount only; a subframe with both lower mounts; and a subframe with both lower and one upper mount. These three are all bike specific.